NEW!!
---
Read the author's
most recent article
posted at
The Huffington Post
Previous recent
Huffington Post articles:

12/8/06
12/7/06
12/6/06
12/1/06
11/29/06
11/22/06
11/15/06
11/9/06
11/6/06
All of Chris' articles:
Full Huffington Post Archive
---
The Hotspot, the online daily from the prestigious National Journal, awards Chris Weigant's article "Thought Of The Day"
---
The Council on Foreign Relations quotes Chris Weigant in a recent article.
---


Read an opinion piece by the author in the San Jose Mercury News Sunday Perspective section.
---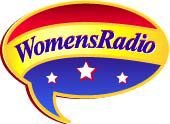 Hear an interview with the author on WomensRadio.com.
We are proud to announce the public release of the soon-to-be bestseller How Democrats Can Take Back Congress written by our newest author "Tom Paine".
Representative Sherrod Brown (D-OH 13th), current Democratic nominee for the US Senate in Ohio, had this to say about the book after reading it:
I very much liked the Social Security tax proposal; it speaks directly to those for whom the burden is most oppressive. The identity theft and privacy ideas are also intriguing. All in all, a good book with provocative ideas and a thoughtful roadmap for Democratic candidates.
And from the media:
Democrats need to offer well-targeted policies to working Americans in all states to regain favor. "Pick ten good issues and stick with them". [The author] then offers 15 such issues, organizing each of them methodically into a summary, a list of pros and cons, and an effective soundbite that Democrats could use.... "Paine" is realistic about every one of these issues, and where there are disadvantages, he lists them without mincing words.
"How Democrats Can Take Back Congress" is a well-researched, clearly written book; "Paine's" bibliography at the end shows his extensive reading on various issues to write this book. It is also a strident call to action for Democrats, much in the way that the original Paine's pamphlet "Common Sense" was a call to action during the American Revolution.
—BookWire Review [PDF download]
This book is worth a look from anyone interested in the future of the Democratic Party.
—Paul Sanford, law professor and radio personality
We encourage you to do just that,
and buy a copy today!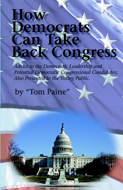 How Democrats Can
Take Back Congress
---
Check out the
Author's Archive